Achieve Success
Live with Purpose
No matter what crisis you're in

CJ McClanahan
Keynote Speaker, Trusted Advisor, Recovering Overachiever
COVID-19 has forced us all to reimagine success.
For over 17 years, CJ McClanahan has been helping others focus on what's important.
No longer are we defined solely by our income, job title, or size of home.
Instead, the focus is moving toward our hearts and the amount of kindness we deliver to others.
Yes, there is a way to success that leads to happiness.
No, it's not complicated. 
Let's get started.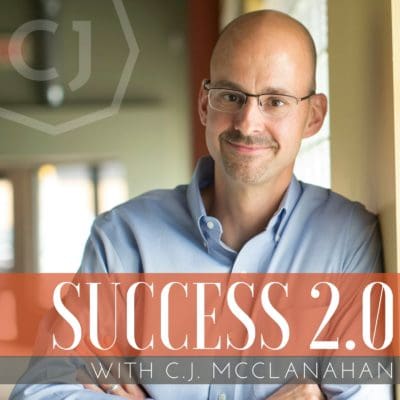 Success 2.0 – The Podcast
Success 2.0 is for overachievers who are tired of the constant chase for more money, more stuff, and more recognition. Every one of us can develop a healthier perspective about success and get more satisfaction from our lives. Join CJ and other high-achieving professionals as we dive into different facets of success.
They said success would bring happiness,
But that wasn't the whole story….
"The Overachiever's Dilemma is simple and profound on a personal level. It names and explains the pain that follows over achievement, and crucially, recommends an alternative path to success that actually satisfies."
Gregory McKeown // Best-selling author of Essentialism
"CJ McClanahan has written a self-help guide that every pressured professional needs to take very seriously. This might just be 'the' problem of our work lives today."
Stephen G. Post, Ph.D // Best-selling author of The Hidden Gifts of Helping
"CJ simplifies the complex and his book has helped me focus on what's really important. The Overachiever's Dilemma has become the how-to manual for my increasingly busy brain."
Peter Dunn // USA TODAY columnist
You made it this far…
You should probably sign up.